I'm going in for PRK Laser Eye Surgery in a few days, and true to character I've done more than my share of research. I've learned quite a bit, and I'd like to share some of it with you. [Edit: Be sure to check out my follow-up account of the surgery: My Laser Eye Surgery, Part I: PRK Pre-Op Preparation and the forthcoming Part II] Unfortunately I don't have the time to give this topic the full attention it deserves, so this post will be a primer on Laser Eye Surgery and especially why I think Lasik and other corneal flap-based methods are ill-advised compared to PRK and other surface ablation methods. See this as an advisement to seek further information.
Please don't take my word for this. Please use this as a jumping-off point for your own research.
I don't want this to be a 'scare' post, but I've spoken with many people recently who really didn't know much about the laser eye surgery they had done, especially the complications specific to Lasik. I spoke with one man who had Lasik done, but he didn't know that he had a flap cut in his cornea! Indeed he insisted that there was no flap. We did establish that he had Lasik, he had no pain and good vision the next day (definitely Lasik), but he was adamant that there was no flap to worry about. That was scary to me, because it means that, whether or not he was actually told about the procedure or about the flap risks, he certainly never understood the procedure, the risks, or the care you have to take with the flap.
In my experience with my own research of the available information on Lasik and PRK over the past 10+ years, and especially in the past several weeks, the practitioners of both procedures largely (or completely) gloss over the risks, and most patients make uninformed decisions. If people go in with eyes-open (ahem), then it's their choice, but I hate to see people getting the wool pulled over their eyes (apologies again for the punnery).
If you've informed yourself and want Lasik, I'd suggest stopping here. However, if you're unsure of the differences between the procedures, or if you are unsure of the risks of the procedures, you may want to continue reading. Please don't take my word for this. Please use this as a jumping-off point for your own research.

On Irony and Selection Bias
First, an aside on irony. I've done my research, I understand the risks of PRK and Lasik. I have my PRK scheduled for a few days from now (July 20, 2011) and I understand and accept that I could be one of the edge cases that have serious or merely undesirable side effects (*knock wood*). I understand that I could know 1,000 people that are perfectly happy with Lasik, but I also know that anecdotal evidence is relatively worthless.
Whatever my outcome, whatever the outcome of your cousin, your co-worker, or everybody you know, the dice are being rolled with each procedure, and each procedure has its different risks. These risks exist and must be looked at on aggregate for each procedure, hopefully before you go under the laser.
Lasik vs PRK
Both PRK and Lasik have somewhat similar risks of undesirable side effects to your vision (stars, halos, dryness, etc), some suggest PRK has somewhat less of them (especially chronic dryness), but it seems to be debatable, and often it comes down to individual reaction to the procedures. You can make choices about your individual procedure (either Lasik or PRK) that will mitigate those risks, such as getting the better lasers, the latest techniques, etc (please inform yourself), but the risks will always remain.
I'm willing to take those risks (with either surgery), but I'd not take on the flap risks that are specific to Lasik (even the all-laser Lasik).
While PRK and other 'surface ablation' methods, make the correction on the surface of the cornea, Lasik methods cut a flap part-way through the cornea itself (about 15-20% of the way through). This creation of the flap introduces a host of side-effects and complications that just don't apply to the surface ablation treatments such as PRK.
Note that same lasers can be used to make the correction in either procedure, though there are some important differences between lasers, eye tracking, algorithms, etc, which play a somewhat important role in mitigating those 'minor' quality of vision side-effects.
From all I've seen, Lasik is the very definition of a 'quick fix'.
For me PRK is the better choice, actually the only choice I'd consider. You can find a good overview of the differences between PRK and Lasik here.
With Lasik, the flap never really heals, and most Lasik providers will feed you the oft-quoted maxim that "after 2 years when it heals to its maximum, any trauma strong enough to dislodge the flap would be strong enough to injure the eye". The problem is that this doesn't seem to be true.
You can find many Ophthalmologist accounts of flaps that have been dislodged through fairly incidental contact (your own finger, tennis ball, tree branch, etc). Sure the risks are low that this happens, but the flap never actually heals. Pretty much only the skin layer overtop actually heals; many ophthalmologists report that the lasik flap can be very easily lifted open many years after the procedure. Those considering Lasik would be well served by reading more about flap complications (be mindful that while they are rare, they are very real).
The Lasik method of cutting a corneal flap not only seems dodgy from the outset, but is starting to show some long-term side-effects. While laser eye surgery has been around for several decades, Lasik and it's flap-method was FDA approved in 1998. Somewhat rare, but not all that uncommon, issues have been found with ectasia (corneal bulging, due to comprised cornea integrity), epithelial in-growth under the flap, striations (wrinkles) in the flap with or without trauma, and partial flap dislocation, all many years down the road.
Lasik also has a higher need for re-treatment, but ironically the risks of Lasik compound on multiple procedures. This makes re-treatment much more difficult and much more risky with Lasik than the no-flap methods of surface ablation, like PRK. With PRK the need for re-treatment has been reported to be considerably lower, but in the cases where it is necessary (or where the vision needs a touch-up years down the road), that re-treatment is no riskier than the original treatment.
Conclusions
Laser eye surgery isn't without its risks. I've weighed those risks, and am going to do PRK. The only real benefit of Lasik is the fast recovery. From all I've seen, Lasik is the very definition of a 'quick fix'. If Lasik was the only method available, I would stick with glasses and contacts.
I truly hope this helps those who may otherwise go uninformed, encouraging them to take pause and research for themselves the reality of the various laser eye procedures.
Continued Reading
Here are my posts on PRK and laser eye surgery, continue reading or, feel free to join the discussion in the comments below!
Laser Eye Surgery Primer: Lasik vs PRK (You are Here)
Lasik vs PRK: What the Lasik Doctor Doesn't Tell You
My Laser Eye Surgery, Part I: PRK Pre-Op Preparation
My Laser Eye Surgery, Part II: The PRK Operation
My Laser Eye Surgery, Part III: PRK Post-Op Recovery
Halos: A Likely Complication of PRK or Lasik

Related Posts
Laser eye surgery is a very popular procedure for correcting near- and far-sightedness as well as astigmatism. Since the first techniques were developed in the early 1980s, many millions of people have gone under the laser hoping to eliminate the need for contacts and glasses. I myself underwent PRK in July, 2011. As is my nature, before I leapt, I looked very closely at the available information on laser eye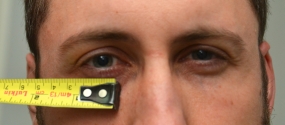 In July of 2011, I had PRK laser eye surgery done. Shortly before, I wrote up a Primer on PRK vs Lasik that the reader may find interesting (TL;DR: Lasik is a dodgy quick-fix, avoid it). Long before signing up for the surgery, long before going under the laser, I did a ton of research. I had been interested in having it done since 1998, and only got it done
---
49 Comments
---
Leave a Reply