Posts Tagged 'brine'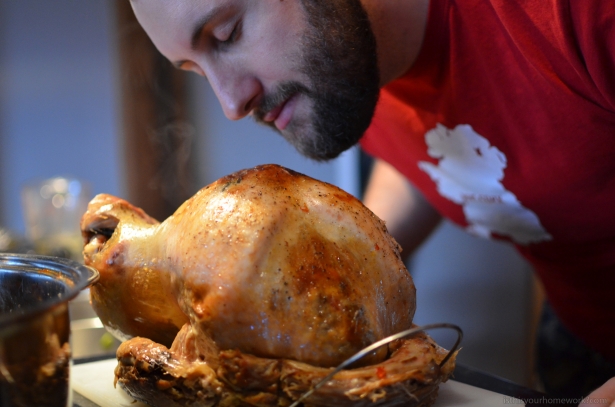 Turkey, turkey, turkey! Here it is, my mother's amazing turkey dinner recipe, straight from the source [with my notes added in brackets].
I know that everybody's partial to their mother's cooking, but my mom's turkey dinner is always outstanding! It's her secret weapon for getting me over to the Island to visit. I'm a horrible son. (Sorry Mom!)
It's not as specific as a cook-book recipe, but it doesn't need to be. Anybody with a cook's soul should breeze through it (chef-ery not required). Post your questions, and I'll answer below. (My Mom may even too!)
Stuffing
italian bread, extra long sliced loaf [D'Italiano works great, so do more squirrely breads]
onion
garlic
celery
italian sausage [Costco hot italian is outstandingly good italian sausage for any recipe!]
mushrooms [I use white, but you can use whatever floats your boat]
red pepper
eggs
salt
pepper
sage
poultry seasoning
butter
olive oil
Make sure that you freeze the loaf of bread ahead of time so that it is easy to cut into cubes without it getting squishy.
Put some olive oil and butter in a large saute pan. If your italian sausage is in casing, remove and crumble into pan as many to taste, say 5 or 6 for a full loaf of bread [I use 4 or 5 of the big Costco sausages, about 600-700g]. Add onions and brown along with sausage.
In the meantime finely chop one or two celery stalks, loads of garlic, and as many mushrooms as you like [I use lots, you can't have too many!].
When the sausage is browned, turn down heat and add the celery, garlic, mushrooms, some more olive oil and too much butter for anyones good. I use lots of butter as it gives a nice flavour [It's turkey dinner, leave your food-conscience at the door!]. Add quite a lot of sage – again to taste – bearing in mind it will diffuse through the bread so if it seems too strong, it probably wont be. I'd say about 2 tablespoons at least, maybe more. Add about the same, or a little less in poultry seasoning. Grind in some pepper, but don't use too much salt as the butter is salty. Also at this time add water to the pan, enough to make it all quite moist but not soupy.