Posts Tagged 'brine'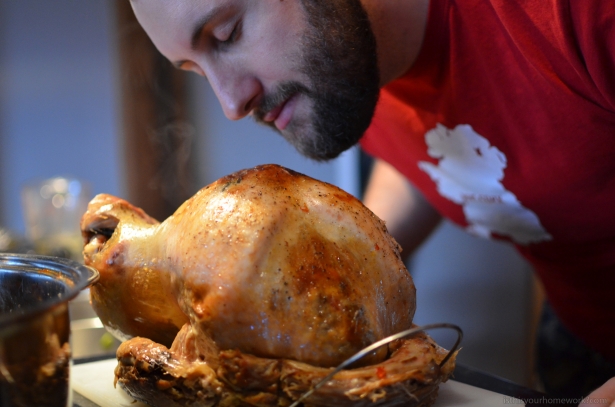 Turkey, turkey, turkey! Wihout further ado, here it is, my mother's amazing turkey dinner recipe. I know everybody's partial to their mother's cooking, but my mom's turkey dinner is always outstanding! And the technique I've cobbled together over the years makes it super easy. No more frantic scramble at the last minute to get everything finished and plated.
This is not as specific as a cook-book recipe, but it doesn't need to be. Anybody with a cook's soul should breeze through it (chef-ery not required). Post your questions, and I'll answer below.
Update for 2019: It's been 6 years to the day since I wrote this post, and having made this meal 3 times a year, I've perfected it even further! (With a bonus gluten-free option that you would *literally* never know is gluten-free unless you told your guests.)
And I've added 4 (count them, 4!) Super Duper ProTips that will elevate your turkey experience from stressful slog to delightful dance. In the old version of this recipe, I used to brine the turkey to get it juicy, but with these tips, it's just not necessary.
Important stress-buster: Start 6h before you want to eat. You can get away with 4.5-5h, but you'll save your sanity if you start 6h before feast-time. It only takes about 90min of effort to make the stuffing, get the bird in the oven, and then take it out and plate it. The rest of the time it's cooking or resting and you're completely free to do your other prep. Or actually, you know, be a human being and not a house elf.
Super Duper ProTip #1: The Leave-In Thermometer
Stop. Before you read on, do yourself a favour and fire up your favourite web-browser or motor-conveyance and head to the (e)shops to buy a digital leave-in thermometer.
Really. This is not a convenience. This is the whole shootin' match. Every part of this recipe will be catawampus without knowing the temperature during cooking and resting. And opening things up to poke a thermometer in simply won't work.
A digital leave-in thermometer will *GUARANTEE* a perfect, juicy, no-stress turkey. Actually it will guarantee every roast you make will be perfect.
Cooking times don't really work because every bird is different, they all start at different temperatures, and every time you use (and open) your oven it will be at a different temperature. There's no way to get a fully-cooked, but still super juicy bird without knowing the temperature.
Here's the one I use, a Thermoworks Dot, which is the simplest possible, just two buttons:
You may already have an old-school leave-in dial thermometer, but these aren't very reliable in my opinion. Go digital, you'll never look back.
You may already have a digital instant-read thermometer (that you don't leave in the bird), but these aren't good enough. (They are excellent for everyday cooking and grilling, see my Porkchop recipe!) Without a leave-in thermometer, you'll be opening the oven a lot, spilling out all that heat, and the bird will take way longer to cook.
Plus, without a leave-in digital thermometer, you'll never be able to do Super Duper ProTip #3, the towel-technique, which is really the magic to eliminating so much stress and keeping the bird ultra juicy.
Convinced? Read on, MacDuff.
Start with the Stuffing
Okay, this stuffing is killer. It's the secret of the feast. If you've bookmarked this page, it's because of the stuffing.
And hard as it is to believe, I've found a gluten-free substitute for the bread that is [hand-on-heart] just as good as the regular. We made both versions one year and even I, as a degenerate stuffing-fiend for whom turkey dinner could be complete with only stuffing and gravy, could barely tell the difference. So good that the following year, I made just one (double-batch) of the GF stuffing.
Note! This recipe makes a LOT of stuffing. I always stuff a large bird, then make a huge pan of extra stuffing (which I cook after the bird's out). Did I mention I really love stuffing? You'll need a pretty giant saucepan for this amount.
1.5 loaves whole grain bread [I like the squirrelly/nutty breads]
2 yellow onions
garlic
3-4 celery stalks
1.5lbs Italian sausage [Costco's hot Italian is surprisingly good italian sausage for any recipe]
big bag of mushrooms [I use brown/crimini, but you can use whatever floats your boat]
1/2 red bell pepper
4-5 eggs
salt
pepper
sage powder
poultry seasoning powder
butter
olive oil
Sauté up your onions and celery in a healthy amount of olive oil and butter and some salt. When they've softened, add garlic. I like a lot of garlic. Don't be shy to use half a bulb, because the flavours are going to be diluted quite a bit by all that bread. Don't sauté the garlic too long or it'll burn and turn bitter.
Next add sliced mushrooms and a lot more butter an olive oil. Don't go shy on the butter. Add a decent amount more salt and pepper too. Sauté these until the mushrooms have released their water and are bubbling away nicely. (You can rinse and butter the bird as described in the Turkey and Stuffing section while this is happening.)
Add to taste the poultry and sage seasoning to this lovely buttery mushroom mix. Add LOTS. Lots and lots. The seasoning of this mix is going to be diffused through all that bread (and will have to hold its own against the turkey and gravy). I always think I've added too much, but wind up wishing I'd added more. You'll probably add 2-3 tablespoons of sage and 4-5 of poultry seasoning. Maybe more.
After the seasoning the mushroom mix should be wet and oily, almost soupy, very dark green, and taste WAY too strong. Perfect!
Remove the sausage from its casing and crumble/tear it into bite-sized chunks. Drop it straight into the concoction. Cooking the sausage in this soupy mix makes it more tender than if you brown it in the pan.
When the sausage is cooked through, you can do your last tasting. The sausage mushroom mix should still be pretty soupy with oil and some water from the mushrooms. If it doesn't look soupy like the video above, sometimes you'll have to add a bit of water. Next add whatever salt/pepper/sage/poultry you need to make a heavily flavoured mix. Remove it from the heat. You're almost done the stuffing!